Our mission is working for a safer world. These principles drive every decision we make:
Overview
The majority of everyday chemical exposure in people occurs through the air we breathe in our homes, offices, schools and other indoor environments. These airborne chemicals are commonly referred to as volatile organic compounds (VOCs), which are used to manufacture and maintain building materials, interior furnishing, cleaning products and personal care products.
Studies by the U.S. Environmental Protection Agency (EPA) and other researchers have found that VOCs are common in indoor environments and that their levels may be two to a thousand times higher than outdoors.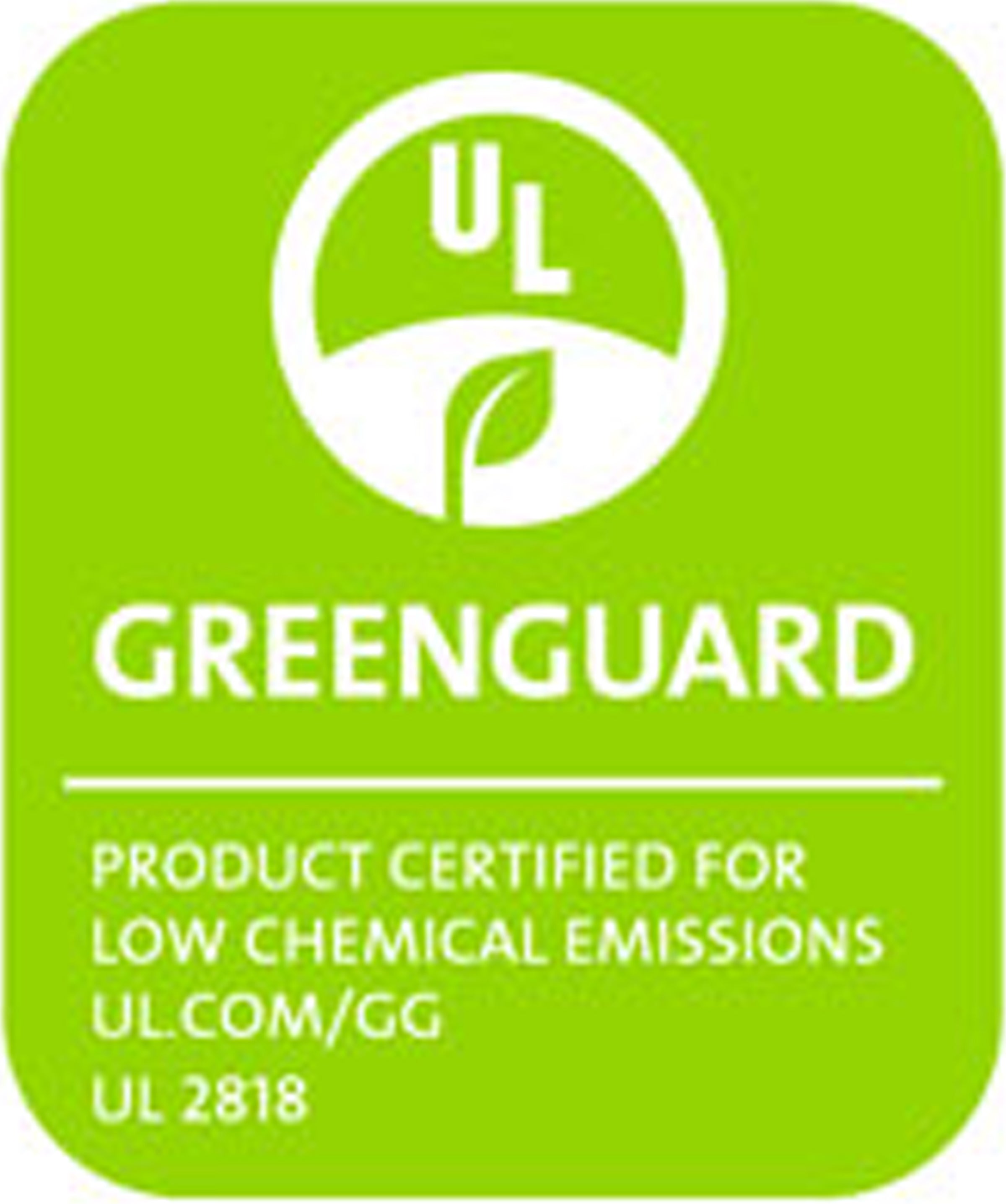 There may be anywhere from 50 to hundreds of individual VOCs in the indoor air at any one time. Some may produce objectionable odors at low levels, but many have no noticeable smell. Many VOCs are irritants and can cause headaches, eye, nose and throat irritation, and dizziness. Long-term exposure to certain VOCs may lead to chronic diseases or cancer. At high concentrations, some VOCs are toxic.
The products that we use to build and furnish our indoor environments can have a significant impact on indoor air pollution levels. Products that have achieved GREENGUARD Certification are scientifically proven to meet some of the world's most rigorous, third-party chemical emissions standards, helping to reduce indoor air pollution and the risk of chemical exposure, while aiding in the creation of healthier indoor environments.
Our UL GREENGUARD Certification Program has established test methods and emission limits for these product groups:
Building materials, furniture and furnishings
Electronic equipment
Cleaning and maintenance products
Medical devices for breathing gas pathways 
Building products and furnishings
We offer two tiers of certification:  GREENGUARD Certification and GREENGUARD Gold Certification. All certified products are subject to a review of the manufacturing process and routine testing to help ensure minimal impact on the indoor environment.
GREENGUARD Certification
GREENGUARD Certification emissions limits were first used as purchasing specifications for the EPA and the state of Washington for furniture and commercial building products. GREENGUARD Certification criteria have been the basis for the LEED credit for low-emitting furniture since 2002. Office furniture products that are GREENGUARD Certified are also compliant with the Business and Institutional Furniture Manufacturers Association (BIFMA) X7.1 standard and BIFMA e3 credit 7.6.1.
GREENGUARD Gold Certification
The GREENGUARD Gold Certification standard includes health-based criteria for additional chemicals and also requires lower total VOC emissions levels to help ensure that products are acceptable for use in environments like schools and healthcare facilities. In addition to limiting emissions of more than 360 VOCs and total chemical emissions, GREENGUARD Gold Certified products must also comply with requirements of the state of California's Department of Public Health (CDPH) "Standard Method for the Testing and Evaluation of Volatile Organic Chemical Emissions from Indoor Sources Using Environmental Chambers, Version 1.2 (2017)" (also known as California Section 01350). Office Furniture products that are GREENGUARD Gold Certified are also compliant with the BIFMA X7.1 standard and BIFMA e3 credits 7.6.1, 7.6.2, and 7.6.3.
A summary of the allowable emission limits for GREENGUARD Certification and GREENGUARD Gold Certification is available.
Both the complete UL GREENGUARD Standard and Test Method for Building Materials, Finishes and Furnishings are available for free on UL's Standards site, COMM2000. The links below will take you to an external website where the documents can be downloaded.
Electronic equipment
Both the complete UL GREENGUARD Standard and Test Method for Electronic Equipment are available for free on COMM2000. The links below will take you to an external website where the documents can be downloaded.
Non-industrial 3D printers:
Medical devices for breathing gas pathways
UL GREENGUARD Certification for Medical Devices includes testing for VOCs, particulates and leachables in condensate, as well as a complete risk assessment that models expected exposure during use. This certification Standard was developed to be compliant with the ISO 18562, Biocompatibility Evaluation of Breathing Gas Pathways in Healthcare Applications, series of standards.
The ISO 18562 standard upon which the certification program is based is available from ISO.
Cleaning and maintenance products
The complete UL GREENGUARD Standard and the Test Method for Cleaning and Maintenance Products are available for free on COMM2000. The links below will take you to an external website where the documents can be downloaded.
Benefits
By choosing products with GREENGUARD Certification, you are creating a healthier indoor environment for your home, office or institution and reducing chemical exposure. GREENGUARD Certification Standards are among the most rigorous in the world, so you can be confident that these certified products live up to their claims.
Why UL
UL's GREENGUARD Certification program is recognized and referenced in numerous building programs, standards and specifications around the world. Products with GREENGUARD Certification or GREENGUARD Gold Certification can contribute to the achievement of points in established green building rating systems, such as LEED, BREEAM, Fitwel and others, and satisfy code or ordinance criteria and meet indoor air quality specific request for proposal (RFP) requirements.
UL GREENGUARD Gold Helps Precision Textiles with Low VOCs of Their Mattress Sock
Precision Textiles was intent on delivering a mattress sock using fibers that were low-emitting. For this reason, IQFit Natural mattress sock is now UL GREENGUARD Gold Certified, demonstrating that the product supports healthier indoor environments.
To promote safe, secure and sustainable living and working environments for people by the application of science, hazard-based safety engineering and data acumen

To support the production and use of products which are physically and environmentally safe and to apply our efforts to prevent or reduce loss of life and property
To advance safety science through research and investigation
To concentrate our efforts and resources on public safety in those areas where we can make valuable contributions
To work with integrity and focus on quality to enhance the trust conveyed by our certification marks and services
To charge fair prices that allow us to meet our obligations, sustain our growth, and invest in safety science and education
To invest in our people and to encourage our people to invest in themselves
To be a good example of corporate citizenship and social responsibility

Brand Integrity at UL is more than a Mark and it's more than a service. It means adding value to the services we provide through vigilance and rigor in safety science, quality and ethics in order to protect each customer's brand while safeguarding our own. It means a passion and commitment driven by our mission of 'Working for a Safer World'. It means we never stop working to protect brands, products, places — people.

Brand Integrity spans a range of services and activities designed to boost market confidence in brands and products to perform safely, effectively and responsibly. This includes proactively surveying the marketplace, investigating product incident reports, supporting law enforcement in efforts to remove counterfeit goods from the stream of commerce, and developing holistic brand integrity strategies and solutions that help companies protect and manage their most valuable asset: their good name.

---

Brand trust and asset protection

Market demand for safe, secure, truthful and sustainable products and experiences has never been greater. We also see a trend of eroding trust in brands. Product recalls, data breaches, counterfeiting, misleading marketing messages and negative or phony online reviews have taken their toll on market confidence.

Every brand is vulnerable in today's connected world. Companies need to proactively manage risk to avoid jeopardizing the good name they have worked so hard to build. Our customers benefit from our diverse, cross-functional team and expertise (spanning ethics to legal, marketing to safety engineering, investigation to enforcement) to help them protect their valuable reputations and strategic assets and manage brand risk. 

Holistic and sustainable brand strategies are critical as brand threats have changed dramatically in the last decade: how they manifest themselves, where and when they can strike within the enterprise or in markets, and what businesses can do to mitigate them. When well-managed, brands create opportunities to shape market perceptions, drive value (attracting customers, employees and investors) and mitigate risks. This requires a cross-functional strategy and coordinated actions encompassing people and expert roles across the organization, because no single person or function owns brand, reputation and asset risk.

The trust that our customers and end users place in the UL brand is our most precious asset so it is vital that we protect our own brand from varied threats. Data breaches, flawed internal practices and association with bad actors are just a few scenarios that can threaten this trust. Anticipating and proactively planning responses to brand threats is critical in order to protect our reputation and intellectual property and preserve, and even strengthen, the value of the UL brand, and by association, our customers' brand assets, reputations and trust. 

Our commitment to brand trust was validated by Aon Risk Solutions' Global Risk Management Survey (2019) with 2,672 risk decision-makers from 33 industry sectors which found that "damage to reputation/brand" has emerged as the #1 ranked risk (out of 10 risk factors) for companies and organizations in Asia, and the #2 ranked risk in North America.

We help protect brands and consumers in many ways — from the food on your plate to the money in your account. For example, when you withdraw cash from an ATM, how do you know your private, financial data is safe? We work directly with credit card issuers to develop processing requirements that keep pace with evolving technology to help avoid data breaches. One example is chip and pin technology that consumers now see embedded in their credit cards. We use custom tool sets to confirm that a credit card terminal meets the platform requirements and then help make those tools available in the marketplace. When you are shopping at the grocery store, how can you tell a natural from a processed food product? You may see our Mark on a brand of honey to show that it is in fact honey and not corn syrup in disguise. These examples underscore how our solutions are touching more and more industries and people. 

---

Marketplace investigations

Through our ongoing marketplace investigations work we help enhance public safety, protect the integrity of our customers' brand and the UL brand that attests to it, and increase the value of our services. We deliver a multitude of services that help create a level playing field in the marketplace for our customers by actively monitoring the use of the UL Mark. For example, we provide a documented process to investigate and determine the root cause of customer product noncompliance and product safety or quality issues that their customers or the public raise. We also implement mitigation actions to address safety hazards, correct false and misleading advertising and provide alerts to the public on safety threats. In addition, we proactively survey the market on issues involving products bearing UL Marks and analyze data and trends to identify potential safety, quality, security, sustainability or ethical concerns with new products and emerging technologies on the horizon. 

Our team is strategically positioned around the globe to investigate allegations of noncompliance with the goal of ensuring that only products that have earned the UL Mark benefit from its integrity and widespread acceptance.

Investigations typically begin with a product incident report that anyone call fill out online. This is a formal notification that something doesn't seem right with a UL certified product or advertising claim. More than 75 percent of the reports we take action on originate directly from consumers, customers, manufacturers and government regulators all over the world. Other reports are generated in-house, typically from research and information we've gathered from our continuous monitoring of public safety, quality and health agencies and policies around the world.

We work as an advocate collaborating with manufacturers, retailers, law enforcement and regulatory authorities to advance public safety. It is a mission we treasure. We know that we can only empower trust if our status as an accredited and premier organization for the testing, certification and conformity of products and services around the world is intact. Identifying counterfeit UL Marked products and taking action to remove these unauthorized, dangerous, deceptive or low quality goods from the marketplace is just one way we work for a safer world.

When we analyze data and report systemic issues to support Standards updates and drive improvements to the testing, inspection and certification process (as well as advisory, training, intelligence and digital tools and services), we know we are making a difference and protecting the integrity of the UL brand and the valuable brand assets of our stakeholders.

---

Anti-counterfeiting enforcement

We are united around the world in a network working to safeguard people, brands, products and places from the risks and harm of counterfeit products. Our team works closely with global partners and law enforcement authorities to develop and implement solutions that halt the flow of illegal and potentially dangerous goods. 

Counterfeit goods can pose a threat to human life and public safety; they also undermine quality and market relationships, not to mention compromise the integrity of the UL Mark. An example of our efforts: our team launched a collaborative project to reduce counterfeit products in the marketplace known as Project Centurion. This operation leveraged our global safety network by engaging with law enforcement, UL customers, intellectual property protection associations and governmental entities to conduct intelligence-led investigations. 

Our efforts this past year resulted in the seizure of 3.8 million products bearing a counterfeit UL Mark.

We also routinely hold workshops and conferences to educate organizations on intellectual property crime, including an annual IP Crime Conference, in partnership with INTERPOL that attracts delegates from more than 80 countries. During these events, we proactively facilitate meetings between law enforcement and other public and private stakeholders that are also working to combat and reduce intellectual property crime.

Our global anti-counterfeiting network is central to our pioneering fight for intellectual property rights.

---

Advancing our mission: Protecting brands and people

Ultimately, Brand Integrity means transparency, truthfulness, commitment, consistency—brand trust. Our commitment and coordinated services help companies innovate safely, effectively and ethically while safeguarding their consumers, brands, good names and reputations. Brand Integrity has always been a key pillar supporting our mission; it has never been more vital at UL and in the marketplace.  

---

Brand protection best practices and results

Learn about vital brand protection strategies and what UL is doing around the world in partnering with governments, law enforcement and companies to protect brands and ultimately the public.

Elevating equity with Watts of Love

In 2020, UL provided pro bono Certification and funding for a renewable solar-powered light developed by Watts of Love, a nonprofit organization bringing safe, clean lighting to energy-poor communities around the globe.

Watts of Love solar lights eliminate dependency on dangerous and toxic kerosene as a light source, improving the health and well-being of each recipient and their family. Every light is distributed in tandem with a financial literacy program that teaches how to convert the resulting kerosene savings into sustainable income.

With this one innovative tool, UL and Watts of Love can help protect children and adults from dangerous fires and toxic fumes, secure a safe and productive home environment, elevate equity, and reduce GHG emissions and indoor air pollution, impacting all of our targeted Sustainable Development Goals.

Aligning to the United Nations Sustainable Development Goals

We are committed to contributing toward and aligning with the United Nations Sustainable Development Goals (SDGs) through our Corporate Sustainability efforts and our services and offerings.

In 2018, we conducted a materiality assessment to identify which of the 17 SDGs most closely align with our mission, values, business and Corporate Sustainability objectives. This analysis resulted in the selection of these goals as our priority focus areas moving forward:

Goal No. 3 – Ensure healthy lives and promote well-being for all at all ages.
Goal No. 11 – Make cities and human settlements inclusive, safe, resilient and sustainable.
Goal No. 12 – Ensure sustainable consumption and production patterns.

 

We've been committed to our mission of working for a safer world since our founding in 1894. We mobilize and share our mission through Corporate Sustainability. Our global reach and safety science expertise position us to have a profound and positive impact on the world.

On Aug.1, 2021, Corporate Sustainability submitted UL's first CoP to the UN Global Compact, featuring our 2020 Sustainability Report and relevant supporting policies. Due to UL's close alignment to the Ten Principles of the Compact, we qualified for the Global Compact Advanced-level designation.

UL became a Signatory to the Compact in 2019, joining the more than 12,000 companies who have stepped up to commit to responsible business and to taking strategic action to help meet the global challenge issued by the UN Sustainable Development Goals (SDGs).

From volunteering and making financial donations to reducing our environmental impact and providing sustainability services, we provide opportunities for everyone at UL to engage in Corporate Sustainability.

Planet

At UL, we strive to minimize the adverse impacts our global offices and operations have on the environment. We make a concerted effort to responsibly manage our utility usage, reduce the waste we generate and engage our employees in innovating the creative solutions to environmental challenges in their locations and communities.

People

Our commitment to people means taking care of our employees, as well as the public we serve. By prioritizing initiatives like employee volunteerism, nonprofit partnerships, disaster relief and charitable donations, we strive to improve lives and elevate equity.

Prosperity

We are proud of the fact that our services and offerings help make the world safer, more secure and sustainable. But the positive impact we have on society does not end with us. It grows with every company that employs our services, in every geography where we are located and with every person that utilizes UL Certified products. The inherent goodness of our work provides us the unique opportunity and ability to promote sustainability every day, in everything we do.

At UL, Corporate Sustainability is not a project, program or campaign — it's a way of life. It is our normal.